This course is based on Ibn Ezra's astrology textbooks.Those texts are a summary of the astrological traditions of the Arab astrologers, which in their turn rely on the Hellenistic tradition, with additions from India and Persia. It is a synthesis of the astrological thought and techniques of the 12th century, used by a practicing astrologer.
This astrology course, emphasizes the 'hardcore' techniques of medieval astrology to a modern student. This course is not for beginners. It requires effort and challenges the student with the mathematics of astrology, the medieval deterministic point of view of life, and the understanding of details of chart reading.
The course is divided into 13 classes, it is presented entirely online, letting the students learn at their own pace. Each class is complemented with written material that can be downloaded for further use.
Who is the course designed for, and what are the benefits?
The Medieval Online Astrology Course is designed for students and practitioners of modern astrology who feel that it is time to tackle the source and rational of astrology, as it was practiced 1000 years ago. The course is designed to ADD to the modern approach, not to replace it.The course could be a bit challenging to newcomers to astrology, but those who are willing to take the plunge will be rewarded with a strong foundation,taking them from basic concepts through intermediate and advanced techniques.
This Course is for those who have the passion for Astrology
Here are some considerations to help determine if the course is right for you: If you are looking for a method for interpreting birth charts, that is NOT psychological in its outlook. If you are interested in other astrological techniques such as horary, Electional and mundane. If you want to know how to synthesis all the different components of a horoscope, knowing which is relevant for which issue. If you are looking for a deeper understanding of astrology, its basic philosophy, and progress through time. If you want to become an astrologer skilled in all the age-old techniques. Most of all, the course is designed for anyone who wants to become a better astrologer. The emphasis is on integrating the material with the modern astrology approach, enhancing what you already know,and adding new techniques that may be old, but are still relevant.

What do you get when you sign up for the course?
Here are some of the things that you get access to immediately upon signing up for the course:
13 classes of video lectures

 on the history, philosophy, and techniques of Hellenistic astrology. The core of the course is centered on the lecture, which include PowerPoint slides, diagrams, chart examples, and more.
Each class is accompanied by 

downloadable diagrams

 in PDF format for your personal and professional use.
The ability to 

attend monthly Q&A webinars 

with other students of the course, in order to ask questions and take part in live interactions.
This is not an easy course, you will probably have to listen to few of the classes more than once to gain understanding.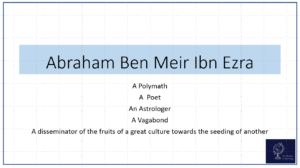 You are welcome to sample the FREE CLASS on the history of Astrology and Ibn Ezra's place within it.
 Accessing the Course
The entire course is presented online in a private membership site.  New students can register and gain access to the course site at any time. When a new student registers for the course they will receive a user name and a password shortly thereafter by email, and at that point they will be able to log in to the course site and begin studying at their own pace. It is suggested to use a broadband internet connection for the course in order to stream video lecture files that would take a while on slower connections.
Registering for the Course
The price for the Astrology Course is $289.
After completing your payment you will be sent an E-mail with your user name and password. If you are not receiving it, please send an email to Maayan Medzini at [email protected] and let me know. If you have any questions about the course then please contact Maayan Medzini through the same email address.